Your First Visit to Minneapolis & St. Paul Chiropractic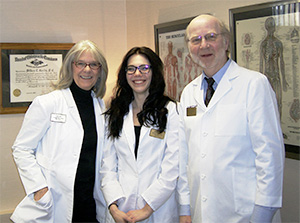 When you arrive for the chiropractic consultation, we will ask you to complete a patient questionnaire, and to get a thorough health history. This paperwork will provide us with general information about yourself and your condition.
If you would like to save time, you may download, print, and fill out the below paperwork prior to arriving by clicking the links below.
— New Patient Intake Health History Form (PDF)
— Notice of Privacy Practices (PDF)
To properly diagnose your problem, you will have a consultation with the doctor to discuss your health-related problems, concerns, as well as potential treatment options.
The next step is a physical examination your chiropractor will perform to evaluate your condition and develop a working diagnosis. Diagnostic tests will help determine which tissues are affected and to what extent. Your specific condition may require us to take x-rays to either rule out more serious conditions or assist us in developing the most effective treatment plan for you.
If you and your doctor of chiropractic agree that chiropractic will help, you will receive your first chiropractic adjustment.
The extent and duration of treatment may require numerous visits. Your chiropractor will tell you how long you can expect the treatment to last. Generally longer-term treatment is needed for conditions that are chronic, severe, or occur in conjunction with another health problem. Patients who are not in overall good health may also have longer healing times. Some injuries will inherently require more treatments than others in order to get relief.
You may also receive instructions on certain activities or procedures to conduct at home or at work. This may include ice or heat application, instructions to avoid certain activities or positions, as well as home exercises and/or stretches. The doctors will also help you with suggestions for nutrition or other changes, which will help you.
To schedule an appointment, please contact our office at 612-724-4647.

A Minneapolis winner of the Patients' Choice Awards in
Chiropractic – Minneapolis, MN
Verified by
Opencare.com